An In-depth Guide to MilesWeb WordPress Hosting
A high-quality WordPress host will offer you many benefits besides just hosting your website. It will help in increasing your website's performance. Provide you with high security, access to premium tools and will maintain a smooth workflow at an affordable price. MilesWeb is one of the top companies that provide WordPress hosting at an offer worth considering.
In this article, we will discuss MilesWeb's WordPress hosting, its plans, prices and features.
WordPress Hosting: Meaning
WordPress is an open-source content management system (CMS) for creating a website, blog, community or network. WordPress provides a wide range of plugins, themes and extensions that you can utilize for your website requirements. WordPress has a user-friendly interface and thereby it is preferred by the new bloggers and many website owners.
WordPress hosting is when your website is hosted on a server that supports the WordPress site.
MilesWeb WordPress Hosting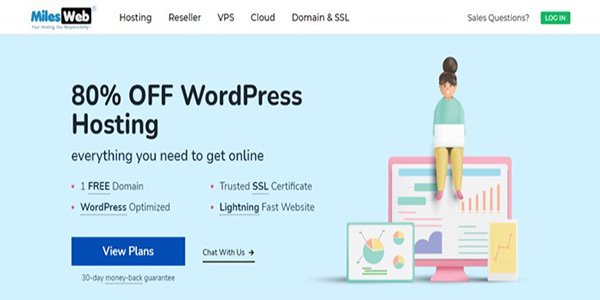 MilesWeb is an Indian web hosting company founded in 2012. Over the years, it has managed to develop its quality and maintaining its prices. They have expanded their horizons and now provide a variety of web hosting services like
Linux and Windows shared hosting
Managed and self-managed WordPress hosting
Linux and Windows reseller hosting
Cloud server hosting
Dedicated server hosting
Managed and self-managed VPS hosting
WordPress hosting at MilesWeb has a high positive rating on various platforms by its users.
WordPress Hosting Plans at MilesWeb
At MilesWeb you get to choose from three WordPress hosting plans, namely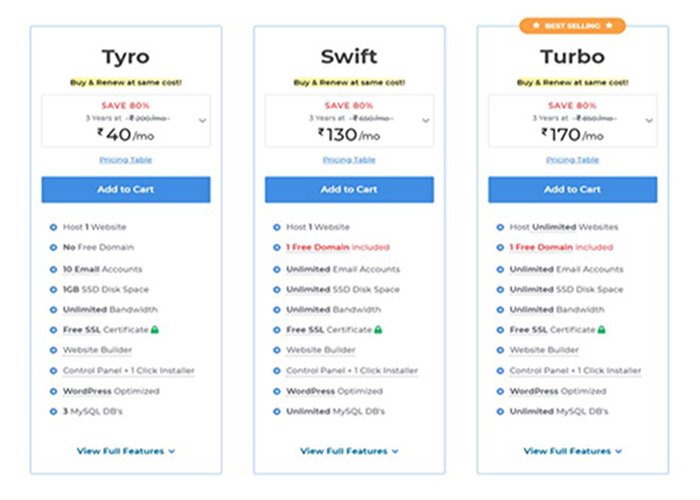 Features of Tyro Plan
Host 1 Website
No Free Domain
10 Email Accounts
1GB SSD Disk Space
Unlimited Bandwidth
Free SSL Certificate
Website Builder
Control Panel + 1 Click Installer
WordPress Optimized
3 MySQL DB's
Features of Swift Plan
Host 1 Website
1 Free Domain included
Unlimited Email Accounts
Unlimited SSD Disk Space
Unlimited Bandwidth
Free SSL Certificate
Website Builder
Control Panel + 1 Click Installer
WordPress Optimized
Unlimited MySQL DB's
Features of Turbo Plan
Host Unlimited Websites
1 Free Domain included
Unlimited Email Accounts
Unlimited SSD Disk Space
Unlimited Bandwidth
Free SSL Certificate
Website Builder
Control Panel + 1 Click Installer
WordPress Optimized
Unlimited MySQL DB's
And this is not all you get with the plans. There is much more to it than what is listed.
Additional Features
With as little as Rs.40 per month (with the three-year plan), you can start your WordPress site. With all the features provided, MilesWeb is pocket-friendly. They also have seasonal discounts, where you can get up to a 50% discount on plans.
Global Datacenter locations
MilesWeb has data centers in Canada, Singapore, UK, the US, Australia and India. They let you choose your data center location. The location of the data center makes your site faster and smoother working. The closer your data center location is to your target audience, the better it is for your site to reach them. With data centers around the globe, they ensure you get world-class service.
MilesWeb uses SSD (Solid-State Drive) storage and not the traditional hard drives to store your data. SSD storage helps in offering up to 200% better performance compared to hard drives. 100% of your data is stored in SSD at MilesWeb.
Automatic WordPress Updates
When hosting your website with MilesWeb, you do not need to check for WordPress updates manually and keep updating them. The backend software does it all for you. It upgrades your WordPress to the latest version. Additionally, their technical professionals ensure that your website is updated with critical updates as soon as they are released.
You get free SSL security with MilesWeb. It ensures secure encryption and decryption and keeps the data between you and your site visitors safe. Every site hosted with MilesWeb provides you with an SSL certificate without any additional charges.
MilesWeb makes your site ultra-fast with inbuilt server caching, SSD hardware, PHP 7, and HTTP/2 support. It will take only a few minutes for your new projects to take off with just a few clicks because of the high speed provided. Your website flies with blazing speed at MilesWeb.

You can create unlimited email accounts with MilesWeb WordPress hosting plans. Unlimited email accounts with IMAP/POP/SMTP can be created with every WordPress hosting plan.
If you are not satisfied with your current host and the idea of choosing a new host and downloading all your data from the current host to the new host is scaring you. Then worry not. If you decide to choose MilesWeb, all your data would be transferred from your previous server to their server without you having to pay a single penny. Their in-house team will do all the work for you.
The backend software at MilesWeb checks for viruses and malware daily. It protects your website from any threats. Still, if any threats are found, the technical team immediately works on it and makes your site free of any malware or viruses.
Exclusive WordPress Hosting Features
CloudflareRailgun
SFTP Access
HTTPS by default
GZIP/Brotil Compression
WP-CLI
CDN
Cloning
Caching
Dedicated Customer Service
24/7/365 Support- You will not have to wait for endless hours to get one small question of yours answered. MilesWeb does not let you wait for longer times. You can get in touch with their technical help team any time and via options like and call the expert or live chat.
30-Day Money Back- If you are not completely satisfied with their services and unsubscribe the plan within 30 days of subscribing, then you get a 100% refund.
99.95% Uptime- Even when you are not working, your website will be working. With Tire-3 and Tire-4 data centers, MilesWeb provides you with the best uptime.
To conclude
You may find many web hosting companies that provide you with unbelievable plans, but MilesWeb is a company that keeps its promises. With all the features and the add-ons, it is a great option to consider before buying a WordPress host for your site. Their team works 24/7 for your website, and with affordable prices, you get one great experience.